Blue wave, schmoo wave: Will young voters show up this fall?
When it comes to elections, there's a reliable trend: old people vote; young people, not so much.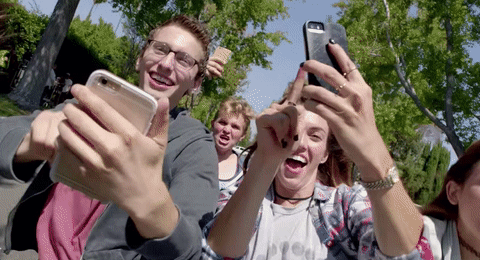 Young people have lowest voter participation rate of any age group. In 2016, only 46% of Americans between the ages of 19 and 29 voted, while 71% of adults over 65 did. And it's not just a "Millennial" problem — participation by young people has languished between in the 30s and 40s going back all the way to 1972.
These participation rates make a huge difference because the young and old vote is polarized. 59% of Millennial voters identify as Democrats or lean Democratic, while only 32% say they support or lean Republican. Meanwhile, of "Silent Generation" voters (born between 1928 and 1945), 52% support Republicans but only 43% support the Democrats.
This is — among many reasons — how America wound up with President Trump.
But there are signs that this trend may be shifting, at least slightly, in 2018. The New York Times reports that — partly inspired by the activism of the Parkland school shooting survivors — new voter registration by younger voters in many states is accelerating, particularly in Florida, North Carolina, and Pennsylvania. In Wisconsin, youth voter registration and participation is up, improving the odds that Governor and Koch Brothers lickspittle Scott Walker and might get kicked out of office in November. Morning Call reports since April, more than half of new voter registrations across Pennsylvania have been by people 24 and younger.
Voter registration doesn't always lead to higher voter turnout. As I've reported for months, many states are making it harder for people to vote, even if they're legally registered. And expectations of a "blue wave" or a "youth wave" may not materialize in November. But still, there are signs — small signs — that 2018 might be a different year for younger voters. Small changes in the percentages can lead to big outcomes across the country.

More Election and voting rights news you might have missed this week…
1. Could ranked-choice voting save America?
Maine is experimenting with "ranked-choice voting."  This approach lets voters rank the candidates from best to worst choice — if no candidates get more than 50% of "first choice" votes, the "second choice votes" help determine the winner, and so on. The idea is to better represent majority rule, eliminate "vote splitting," give voters more choice and reduce incentives for negative campaigning.  This might be the coolest thing Maine has produced since Stephen King.
2. Too complicated? How about vote-by-mail?
If ranked-choice voting seems to confusing and complicated, how about voting from home? David Roberts at Vox makes a compelling case this week that voting by mail saves money and boosts turnout wherever it's been tried. (David Roberts, Vox)
3. Vote or else!
In what sounds like the premise of a Black Mirror episode, someone is trying to "shame" Pennsylvania residents into voting by threatening to expose their voting history to their neighbors and co-workers. Weird. (Sam Janesch, Lancaster Online)
4. Voters sue Ohio over its gerrymandered maps
The ACLU, on behalf of a group of Ohio voters, asked a federal court this week to throw out a Republican-drawn map of Ohio's 16 U.S. House of Representatives districts. The map, they argue, is "an unconstitutional partisan gerrymander that violates the First Amendment, the Fourteenth Amendment, and Article I of the United States Constitution." Gerrymandering reform might be on the ballot this fall in Ohio, but the ACLU still wants to fight for the principle that partisan gerrymandering is unconstitutional.
5. Why Rick Scott is the worst
In case there was any doubt, Florida Governor, future Senate candidate, and Medicare fraud crook Rick Scott may be the worst in the nation when it comes to voting rights. Steve Bousquet at the Tampa Bay Times breaks down all his efforts to suppress voting rights in Florida. (Steve Bousquet, Tampa Bay Times)