On Wisconsin?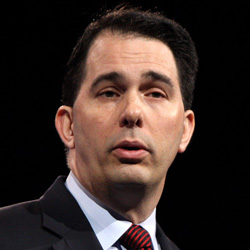 For the better part of the past decade, Wisconsin has been a case study in how many ways determined and shameless legislators can undermine democracy at the state level. After the 2010 election brought in Republican Governor Scott Walker and GOP control of the statehouse, they quickly forced through an extreme partisan Gerrymander that entrenched conservatives and locked out Democratic lawmakers. Consider this: in 2012, Republicans won only 48.6% of the vote in statewide elections for the Wisconsin Assembly, but won 60 of the 99 seats to cement their majority control.
But that was just the start. In 2011, Walker and the GOP installed new voting restrictions and ID laws that kept tens of thousands of eligible voters away from the polls. They also gutted state campaign finance and ethics laws. On top of that, the governor is backed by millions of out-of-state dollars from the billionaire Koch brothers. How much money? We don't know, thanks to the U.S. Supreme Court unleashing unlimited, "dark" corporate spending on political campaigns with the 2010 Citizens United decision.
But hey, it's 2018 — maybe things are starting to shift? In a climate where GOP approval is tanking nationwide, there was optimism when two Republican state senators resigned at the end of 2017. A special election to fill their seats might bring two new Democrats to the statehouse. But Walker refused to allow the special election, despite state law which requires special elections to be held to fill vacancies. The fight over the special election went to court, and yesterday, Circuit Judge Josann Reynolds (appointed by Walker in 2014) ordered Walker to hold elections to fill the open legislative seats. Stay tuned…
[Photo credit: Gage Skidmore [CC BY-SA 3.0 (https://creativecommons.org/licenses/by-sa/3.0)], via Wikimedia Commons]
Sore losers in Pennsylvania
The Pennsylvania GOP also got a bit greedy after they won control of the state legislature in 2010. Like Wisconsin, they also put in place an extreme partisan Gerrymander that disproportionately favored Republican candidates. In a state that typically votes 50/50 between the two major parties, and which voted for the Democrat in six out of the last seven Presidential elections, it locked up 13 of the 18 congressional seats through redistricting.
The nakedly partisan Gerrymander was so bad that this January, the Pennsylvania State Supreme Court ruled that the Congressional maps violated the state constitution and ordered new, more fair maps be drawn for 2018. The Pennsylvania GOP was outraged. They drew new maps that were even worse. The new Democratic governor vetoed them, which sent it back to the courts to be independently redrawn. The new, court-drawn maps, by most independent reviews, seem to be fair to both parties. A New York Times analysis concludes that "the new congressional map comes very close to achieving partisan balance."
But "partisan balance" doesn't seem to be what the Pennsylvania GOP wants. It appealed the new maps to the U.S. Supreme Court, but the court refused the case. So the 2018 midterm elections will now use the new maps and Pennsylvania voters will have a greater chance to be fairly represented.
That should be the end of the story, but it's not. On Tuesday, Representative Cris Dush (R) introduced measures to impeach the State Supreme Court judges who ruled against his party's unconstitutional congressional map. It's unclear how many Republicans support his effort to impeach four judges over a ruling he didn't like.
Pennsylvania House Minority Leader Frank Dermody (D) put it in perspective: "It's an attack on the independence of every judge in our state, one of the bedrock principles of our democracy… If pursued, this would be a clear and present danger to the administration of justice in Pennsylvania."

More Election and voting rights news you might have missed this week…
1.West Wing Reunites for Voting Rights
Three things got me through the darkest days of the George W. Bush years: Madden 2003, Linkin Park's "In The End" played at full volume in my VW Jetta, and the reassuring alternate reality of the noble, progressive Jeb Bartlett presidency on NBC's The West Wing. This week, the West Wing cast reunited to create this video promoting voting rights.

The video is produced by Jason Kander's outstanding new voting rights organization, Let America Vote. It's a great place to start if you want to support the fight to protect voting rights.
2. ACLU vs. Kris Kobach, Week 3
Last week, I wrote about the courtroom battle between the ACLU and Kris Kobach over Kansas' strict voter ID law that has disenfranchised more than 35,000 voters. Testimony in the trial wrapped up this week. KCUR's Celia Llopis-Jepsen posted an excellent recap of the week's action, which once again didn't seem to go well for Kobach and his rogues gallery of voting restriction advocates.
ACLU lawyer Dale Ho grilled one of Kobach's "expert" witnesses, Old Dominion professor Jesse Richman, whose research methods for blocking voters came under scrutiny. Richman's analysis of voter data included "marking names that appeared to be foreign if they didn't sound 'Anglophone.'" It got awkward from there:
A decision from Federal Chief District Judge Julie Robinson is expected within a month. (Celia Llopis-Jepsen, KCUR)
3. Georgia GOP tries to kill Sunday voting
Sunday voting before election days has become very popular with voters in many states: weekend voting is more convenient than trying to get to a polling place on a workday for most people. It's particularly popular in many African American communities— churches often organize rides to the polls, providing assistance to older voters and those without their own transportation. "Souls to the Polls" efforts were credited with high African American voter turnout in many cities in 2008 and 2012. So, naturally, Georgia's legislature is trying to eliminate Sunday voting. (Kira Lerner, ThinkProgress)
4. New Hampshire voters lose their votes over bad handwriting
In New Hampshire, hundreds of voters lost their right to vote because their signature didn't match another one on record. The ACLU is suing the state to knock it off. This isn't the only problem in the Granite State: the GOP-controlled legislature continues to try to impose more restrictive voting laws. (Mark Joseph Stern, Slate)
5. 20,339 Illinois Republicans voted for a Nazi.
Finally, in the Illinois 3rd Congressional District primary this week, the sole GOP candidate was Arthur Jones, who is the former head of the American Nazi Party, an unapologetic anti-Semite and holocaust denier. Although the Illinois Republican Party publicly disavowed Jones, they didn't run anyone against him. And on Tuesday, more than 20,000 Republicans voted for Jones. He'll be on the ballot this November. Welcome to 2018. (Josh Israel, ThinkProgress)